A Complete Guide for your Food Delivery Startup
Do you want to give your Food Delivery Business a new fresh kick?

Connecting with customers by smooth-functioning Delivery Apps like zomato , swiggy, UberEats etc has increased the trend of food Business. It has evolved in a very authentic manner and has been offering publicity and credibility to the restaurants, hotels, and food corners - a better recognition.

Both technical aspects and revenue sources are required to be understood to become successful in this foodism religion. So, why not learn such an informative, innovative and evergreen food generated business. The evolving transformation has to occur now and definitely it has to be very quick and accurate.

Let's dive into an interesting journey of promoting and growing food services :
Technical aspects of Food Business App (B2B2C)
The increasing tech-savvy population has placed a great change in food eating habits of people. Hence, the 4 technical aspects of Food Delivery App are given below for smooth flow of Food service:

Customer App
Customer App is developed for customers to search their favourite food from respective restaurants and place orders from mobile devices.
It can be downloaded from google play store or Apple app store present on mobile. It must have a simple user interface, easy social media login, bookmarks for places and food, categories of food , notification alert feature, easy order placing / cancellation button, chat box for order queries/problem, order and GPS location tracking, multiple payment options plus rating and reviews feature. In brief it should satisfy their food cravings both mentally and physiologically.
Driver App
Driver App is made for Delivery Man so that they can be connected with the food delivering process. The Driver App with a simple interface assists in time management and to find Right customer location.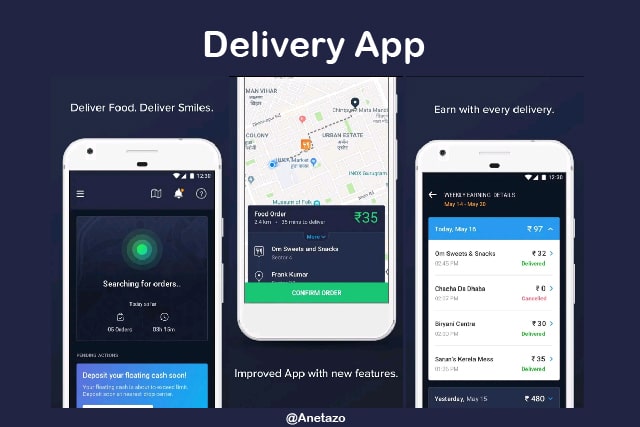 It must be easily accessible to the non technical user as well and provide alert notification for each new order, food collection location and number, delivery route, constant time display. Once the food packets are delivered it must also show order summary and payment details. Thus, the second most important aspect to deliver food at the specified time to a particular place and person is achieved by Driver App.
Restaurant Panel
Restaurant panels are designed for restaurant owners to manage their menu and orders effectively.
Through the restaurant panel owners are able to regulate their business properly and thus can have a constant look on analytics and stats of current and previous orders .They can add offers and discounts on the food items and display them on the dashboard plus know their regular customers. Non technical owners also can view order summary and smart reports easily on web and mobile formats. Thus, the Restaurant Panel is the important and simple part of the Food App to better up the service.
Admin Panel
Admin Panel is used to monitor and analyze the smooth and proper functioning of all other Apps. It ensures better user interface designs in customer App to make user interaction better and more appealing so that they can easily use the app (Touch user interfaces are enhancing qualitative user experience). It keeps an eye on order processing and delivery tracking plus statistical information of the apps work with analytics and smart reports. It manages the addition/removal of restaurants, sends push notifications,order summary and coupon codes generation. Through the Admin Panel every App works efficiently.
Revenue Sources of Food Delivery App
Earning income is a major goal in any business to be considered as a successful concrete and strong competitor. The main sources of income for food delivery services, that are contributing in revenue generation are given below:


Delivery charges
A delivery charge is a cost of transporting or delivering the food packet from restaurant to the doorstep of the registered location. It is obtained from the customer in the form of a specific nominal fee whenever the customer places an order. It is a very basic, simple and an obvious revenue stream of any food delivery App that can be obtained from each and every order. Although the working model of each food App is somewhat similar there is a slight difference in the delivery charges from one App to another. So the consumer should ensure that the delivery charge is included in the payment or not for a safe transaction.
Commission
A commission fee is a cost that food Apps collect from restaurants, hotels, food corners and bakeries etc, against the service of providing customers to them. In other words, it is a service charge to be taken from food makers after the food delivery service has been completed. Food delivery Apps basically act as a mediator and connect the consumers to the nearby local cuisine producers , thus making a profitable business all around the locality. If we consider swiggy , zomato and Ubereats ; Well ! their charges differ even from city to city and it also depends on the profit made by a particular restaurant.
Advertising
Advertising revenues are obtained in two ways where first is done by promoting banners of various restaurants in ads and second is done by priority listing of names for some time whoever pays for the service. The banner promotions ensure greater visibility to the users while the placement of the restaurant partner on higher rank in search options attracts customers. Advertising has proved that greater the one is seen there will be the higher chance of being chosen. Well, whether or not people believe in this and thus advertising is an important source of revenue for Food Apps which is again making them a profitable business in the market.
Affiliate income
Affiliate income is the commission received by promoting and selling others products. Affiliate income is being highly accepted by Swiggy which sells the credit cards of various banks like CityBank, ICICI etc to earn income. Swiggy uses affiliate marketing for its revenue purposes. Smart Move!! Although this affiliate income is new yet it is successful in generating a good amount of commission where both the parties benefit from each other. India is promoting such affiliate networks which will definitely ensure growth and development of all business on a major scale.
Swiggy Specials
Swiggy being the most preferable food delivery platform has come up with new ideas to expand their business to the outskirts of different cities and serve more people. First is 'Swiggy Access' which is specifically designed kitchens with all basic facilities for restaurant partners to ensure quality convenience of food to the customers of various geographical areas difficult to reach. Second is 'Swiggy Super' membership program offers unlimited free Delivery, zero surge fee, surprise treats and many more and cones in two plans at Rs.79 for one month and Rs.179 for 3 months. Thus, enjoy the service just by being at home.